Events 2017
Give and Take
A great many people came and enjoyed Giving and Taking during the four day event. A huge thank you to the volunteers who manned the shop. It was a very popular event.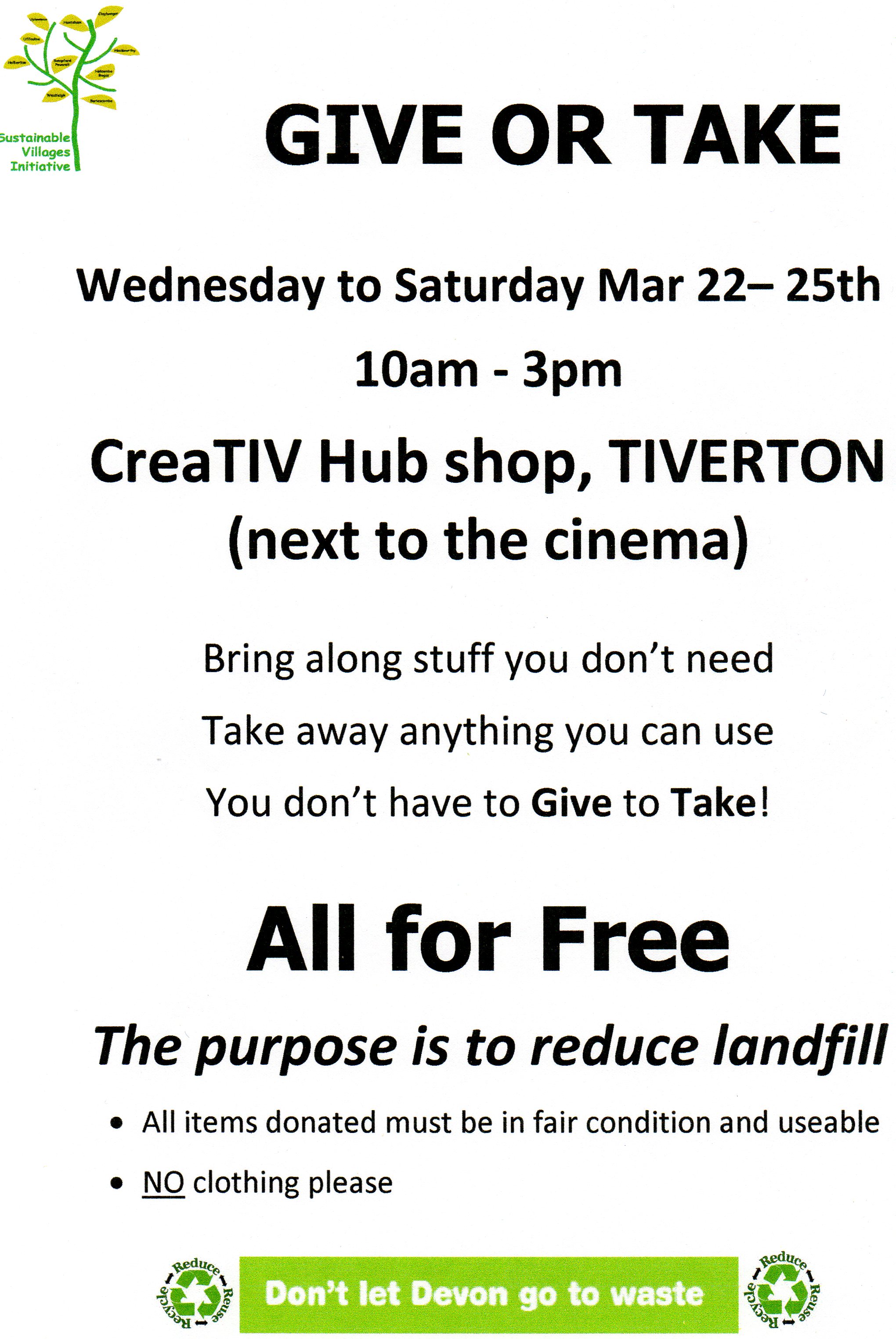 Compost Doctor Training
Nicky Scott led an informative session on composting. The volunteers will now be looking at ways to get the message out to friends, family and local people about why we should be and how to compost.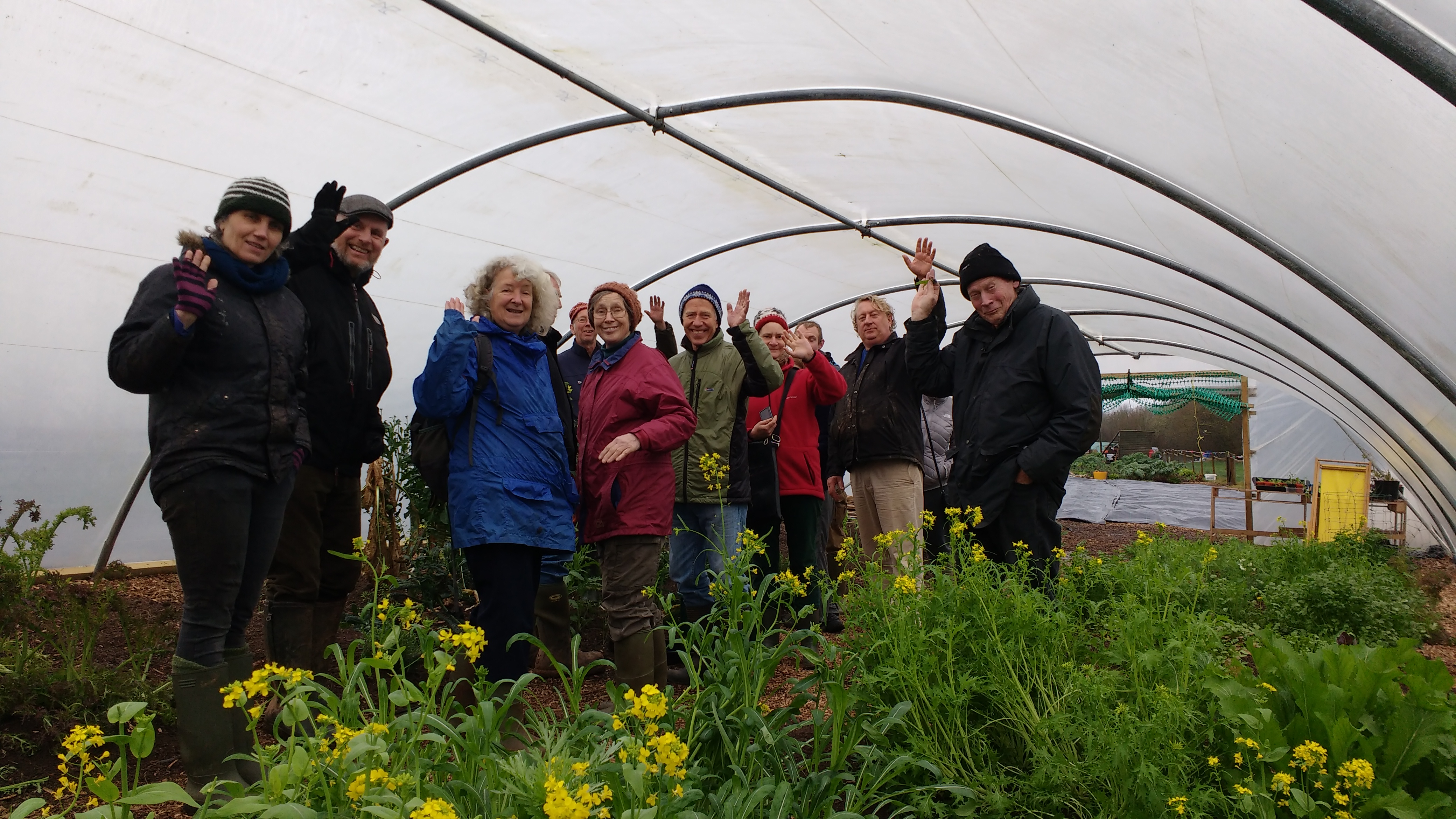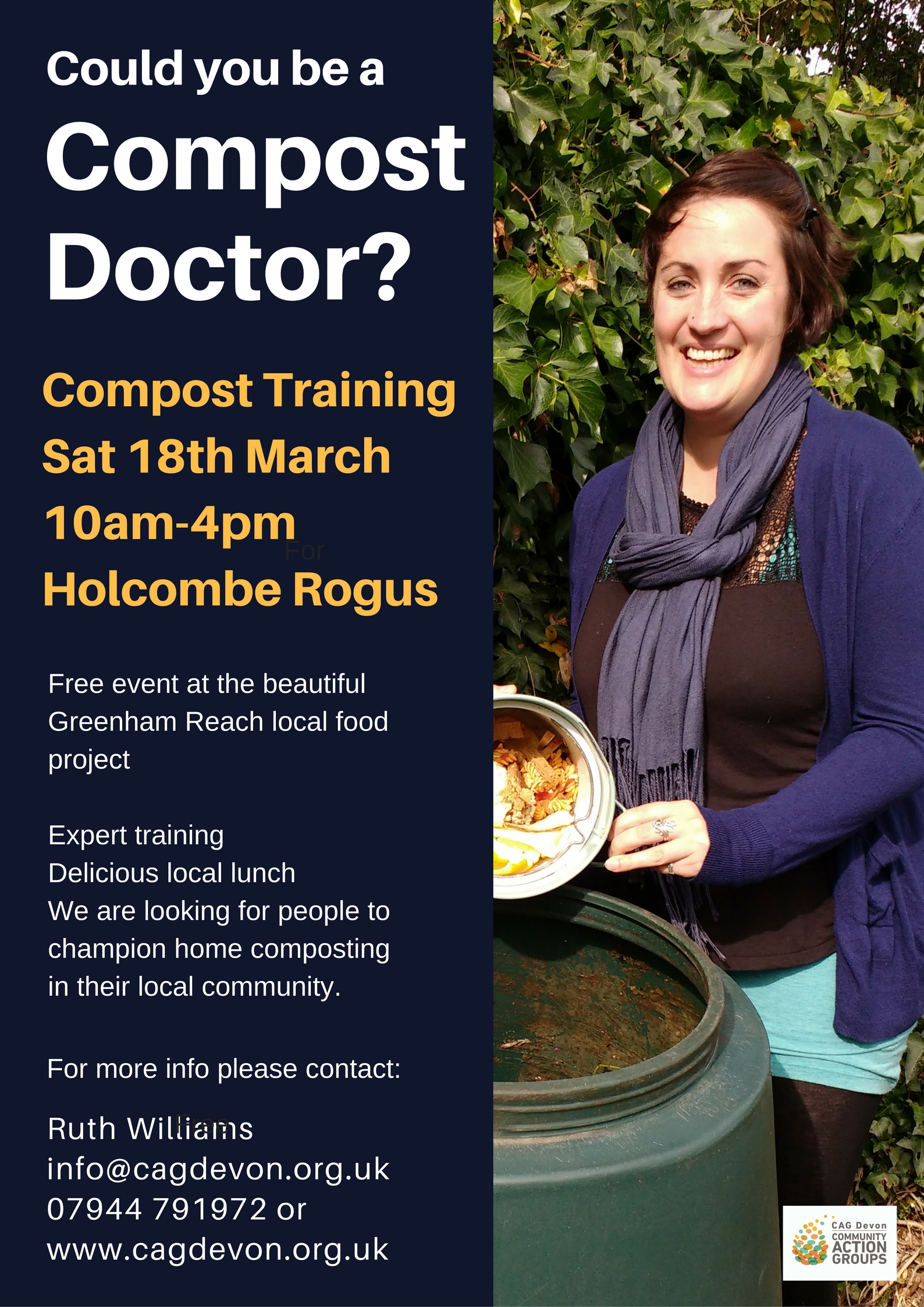 Food Waste Film and AGM
Fabulous to hear about all the great work by everyone involved with this group. The AGM decided a name change for the group. Also the film flagged up some important issues in planning before shopping, best before compared to use by dates, using your freezer and leftovers and portion size. One great idea was to have a box in the fridge for all your food that needs to be used first.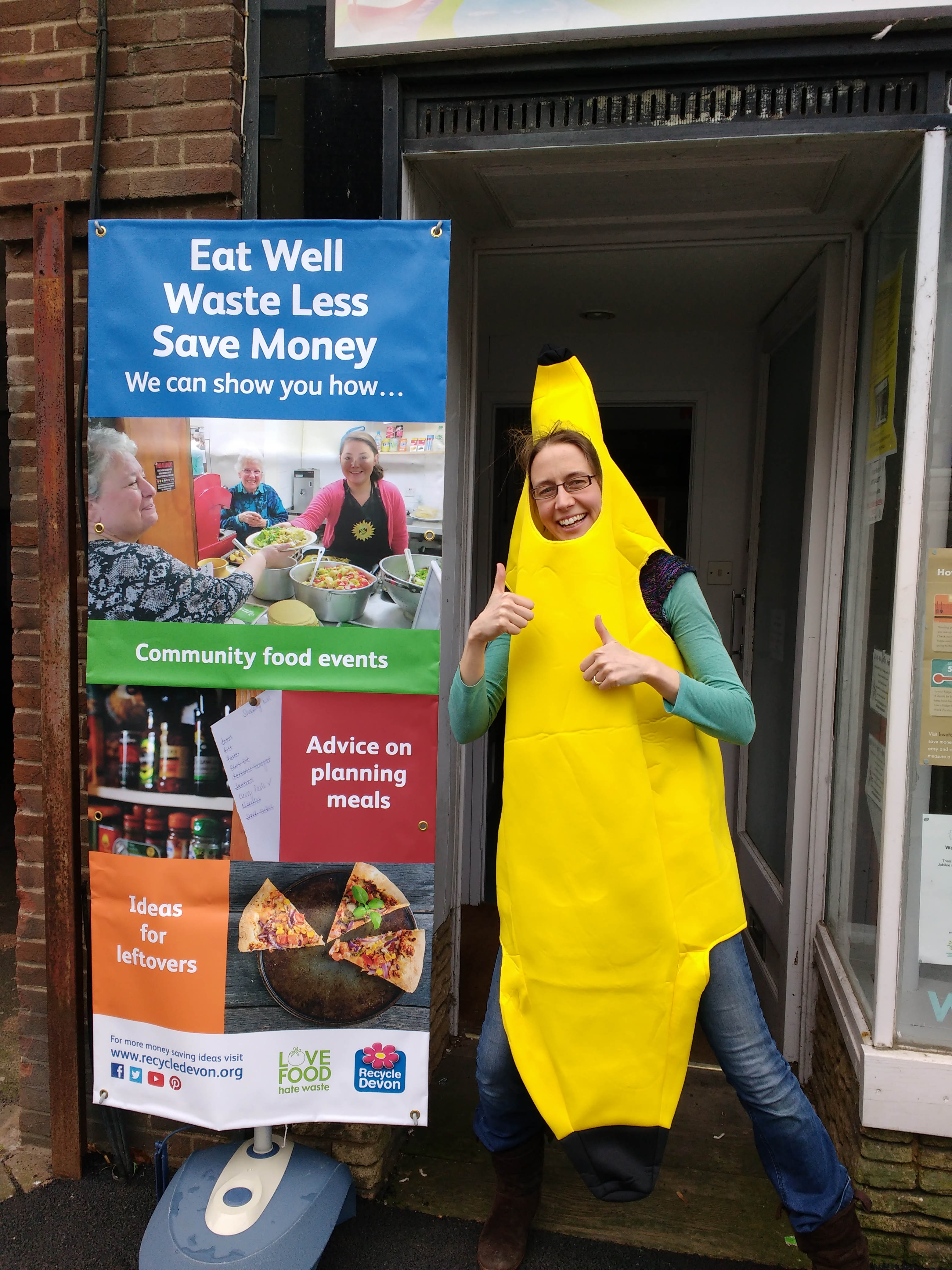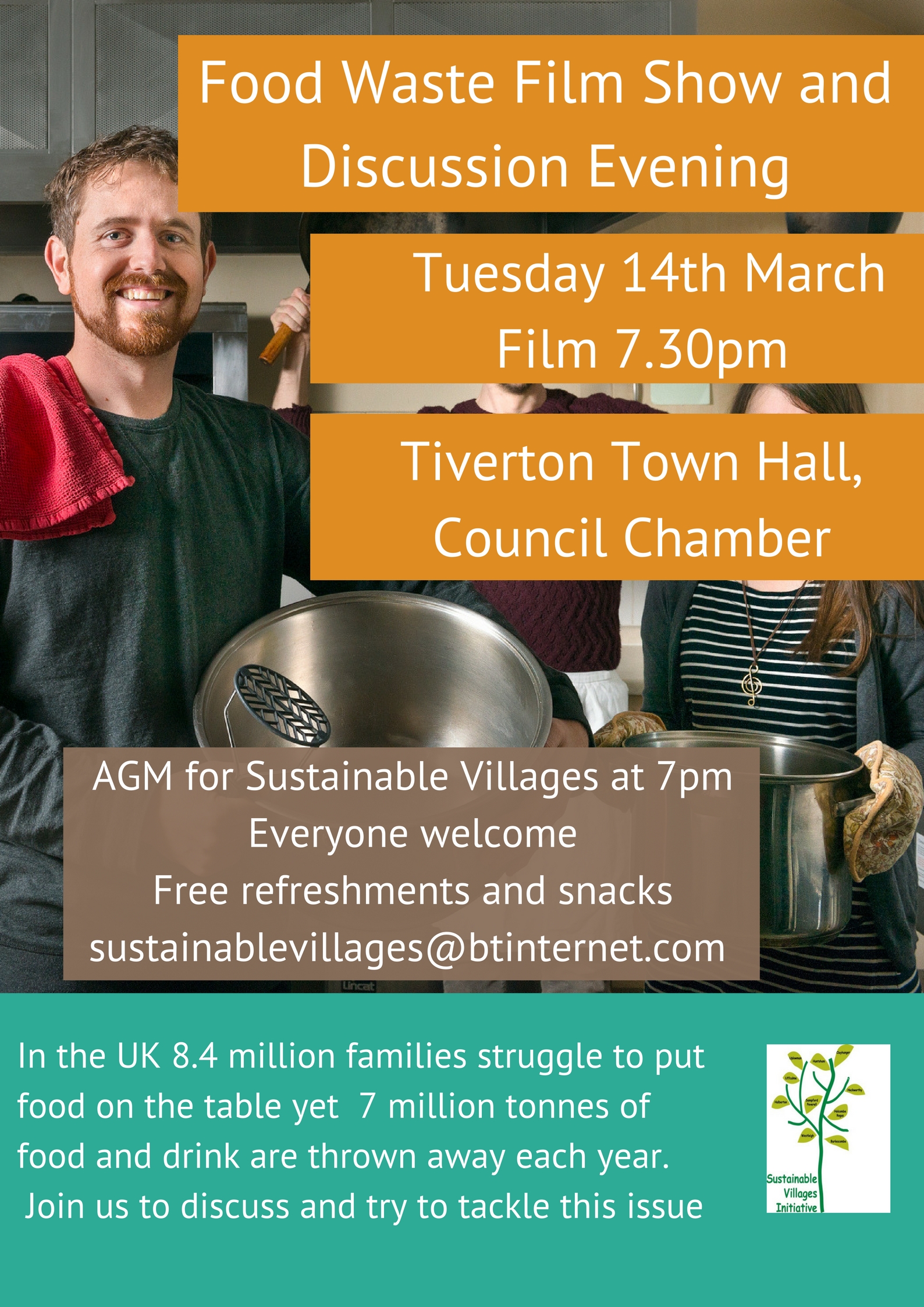 Great turn out to hear Tim Smit talk about the new development. There is a good feature on this in Devon live.
Forty volunteers arrived for training in reducing Food waste and the first event is being planned by the food group below. Let us know if you would like to be part of it.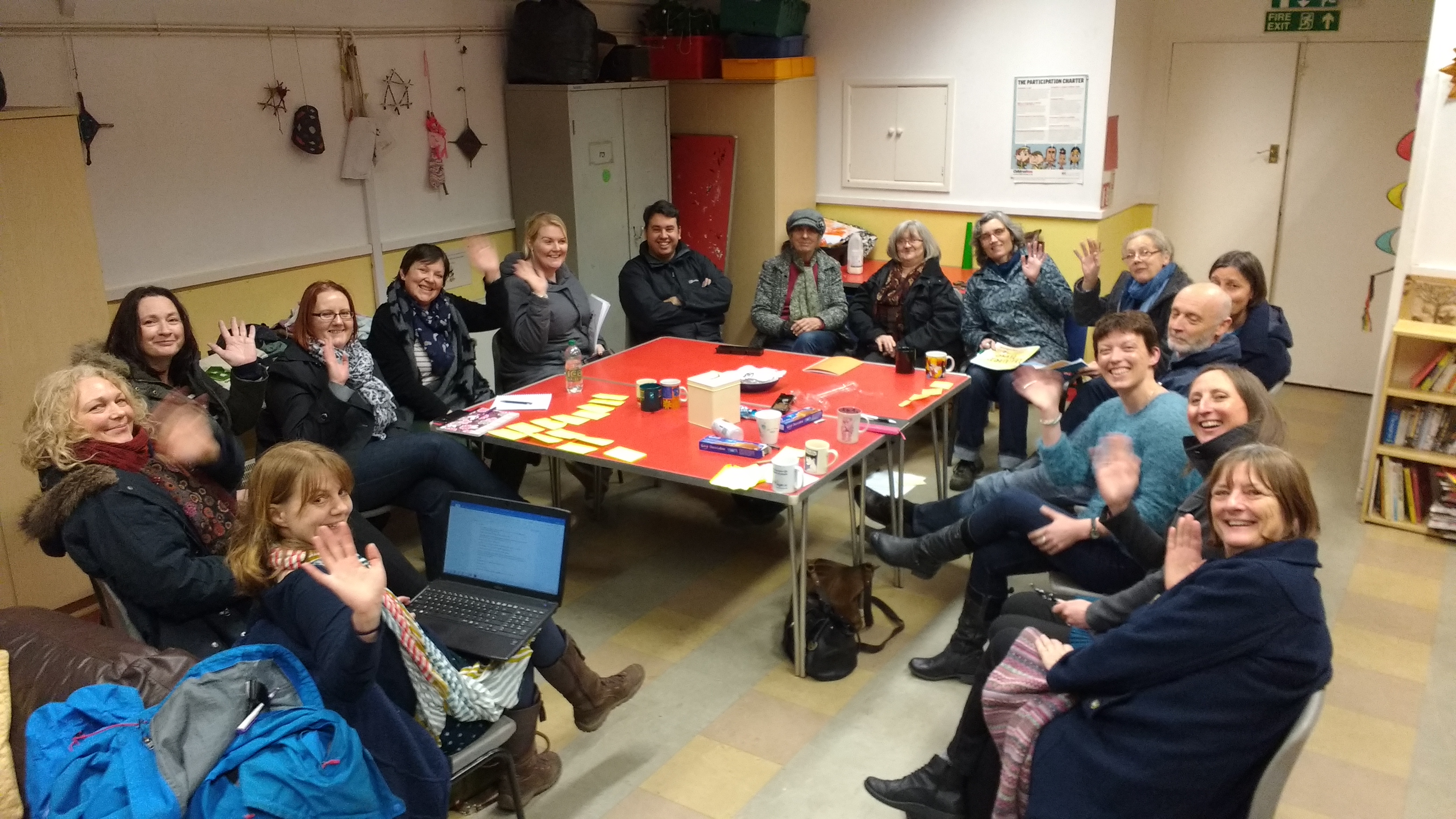 The Any Question event was a great success for Uffculme Green Team with a lively evening of debate.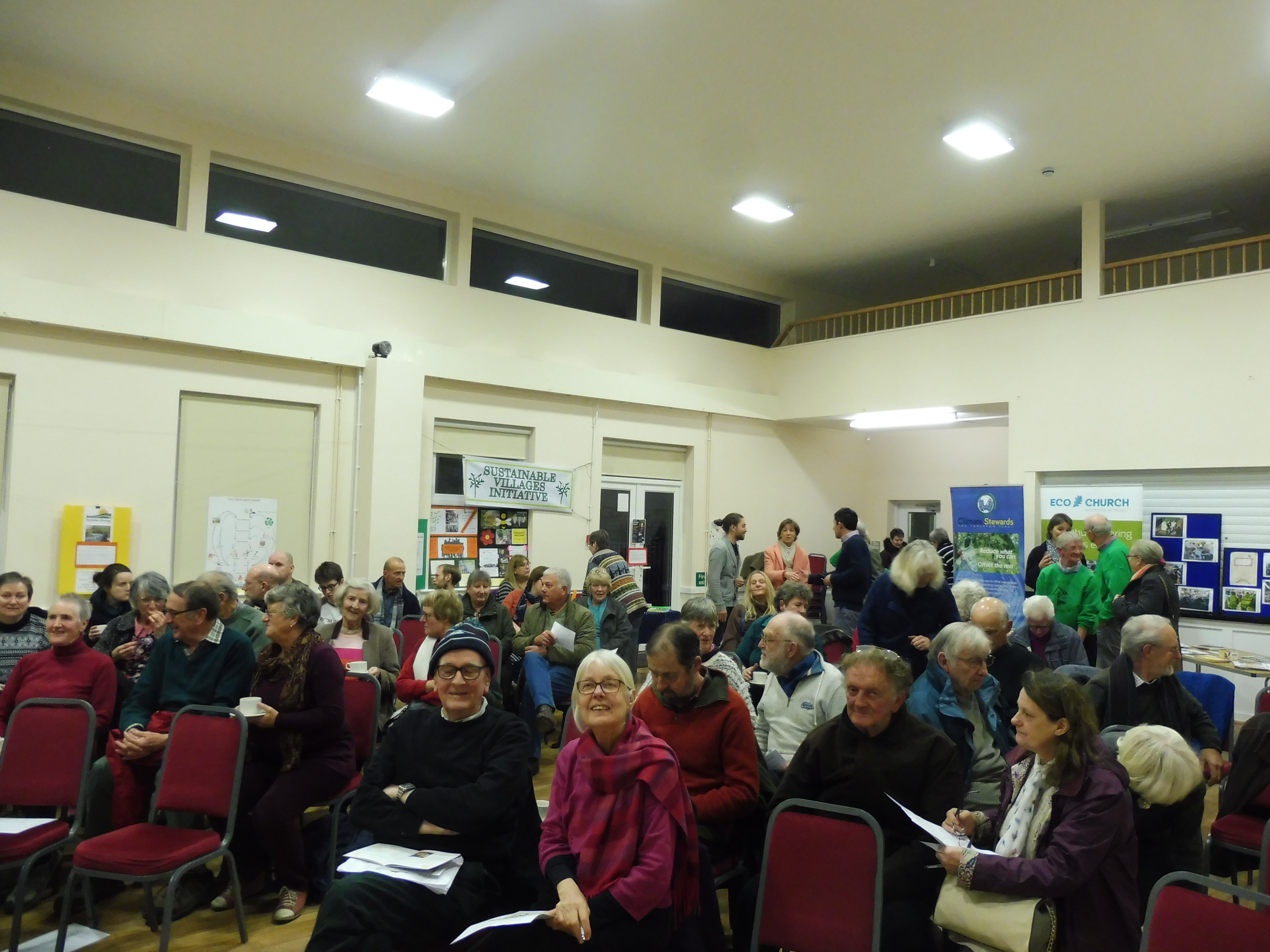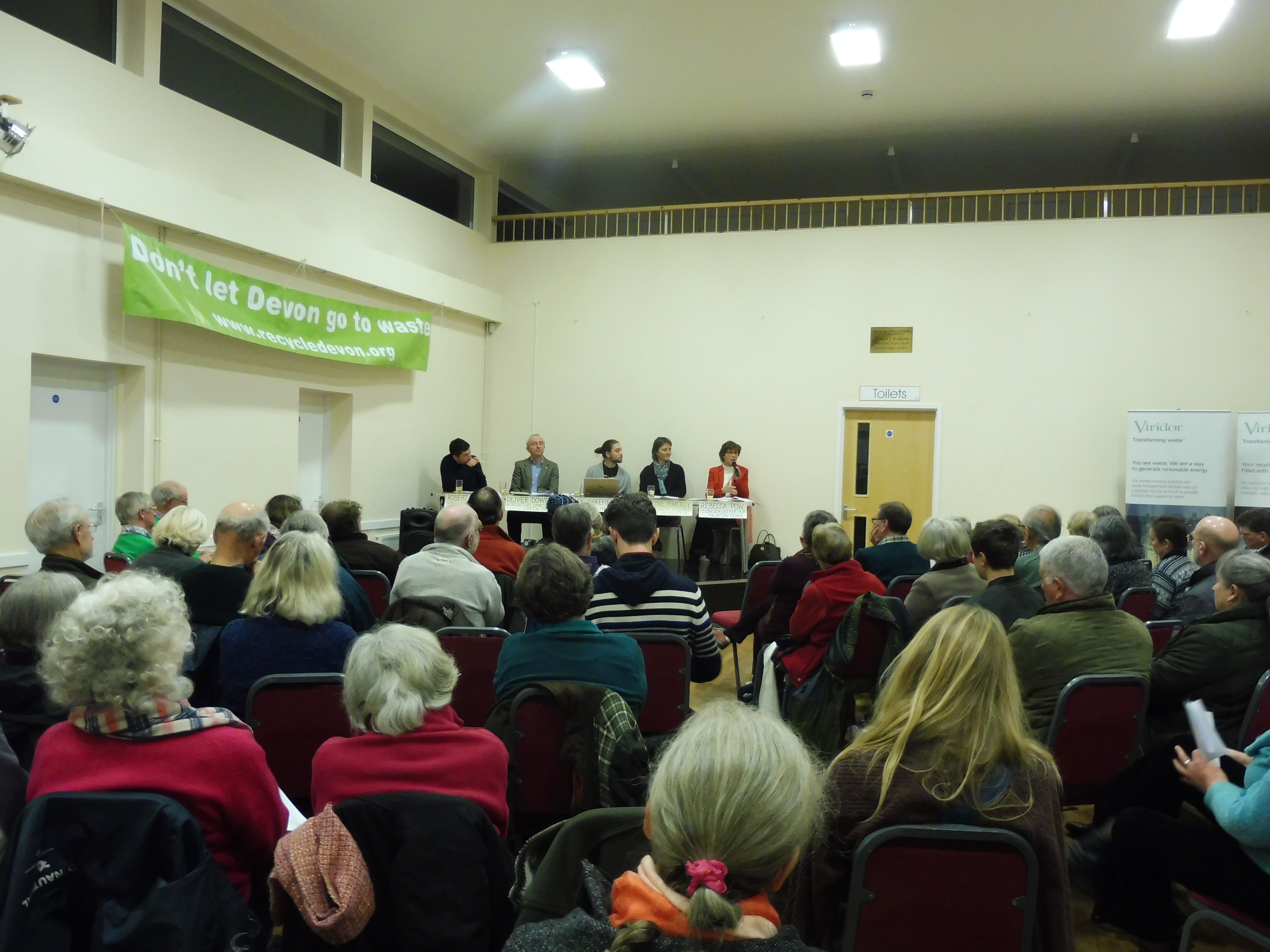 Events 2016
Apple Day at Sampford Peverall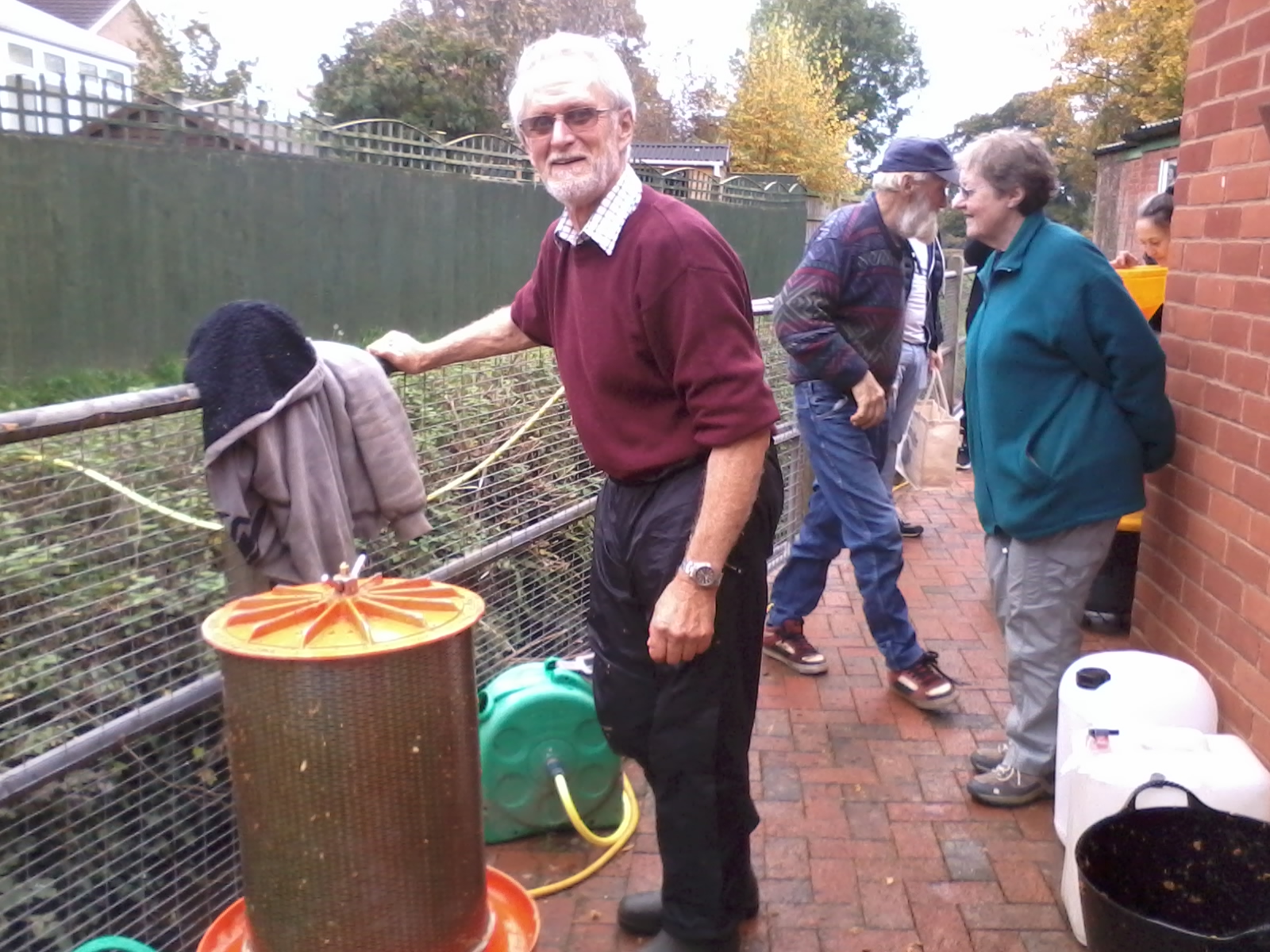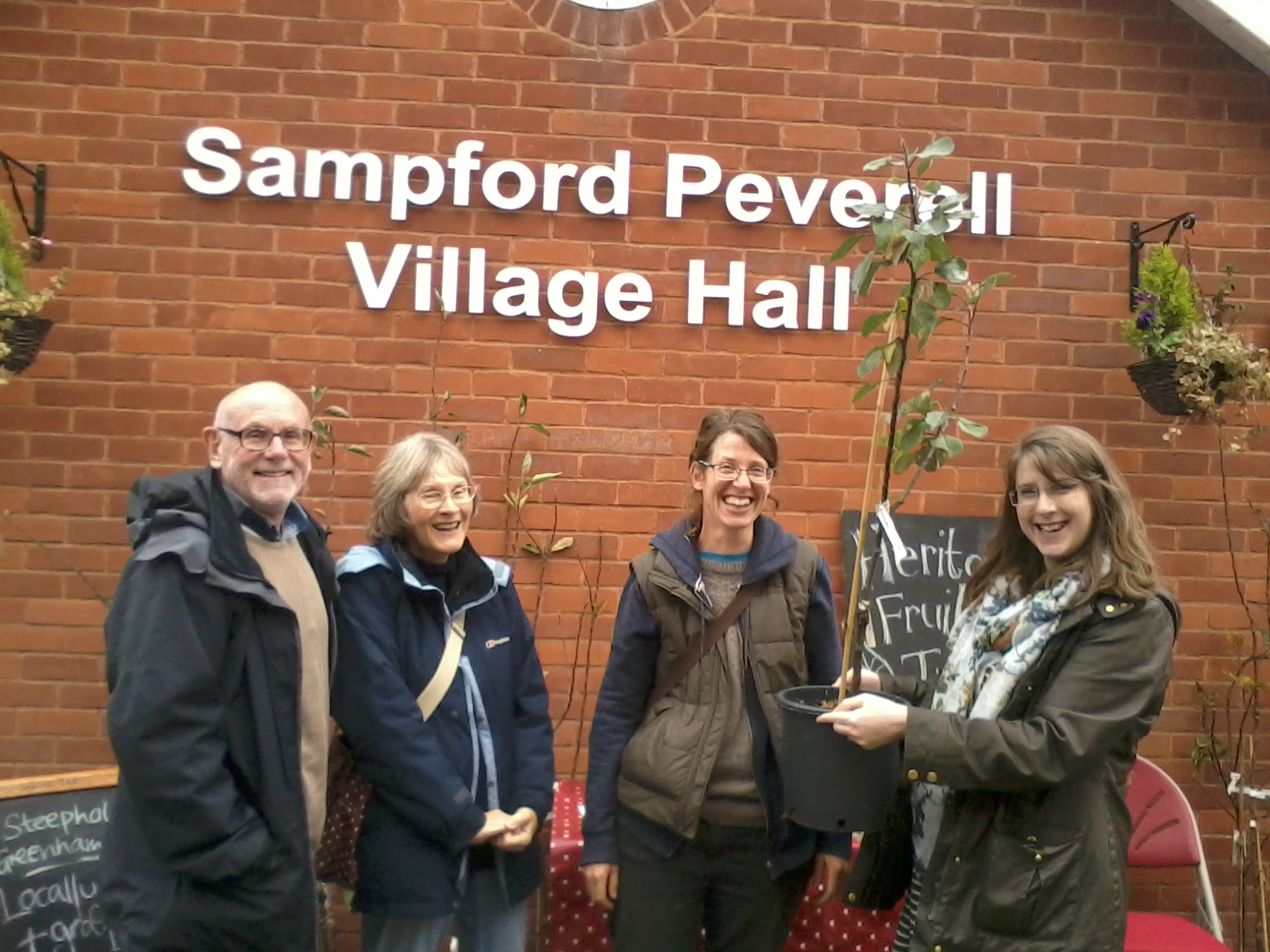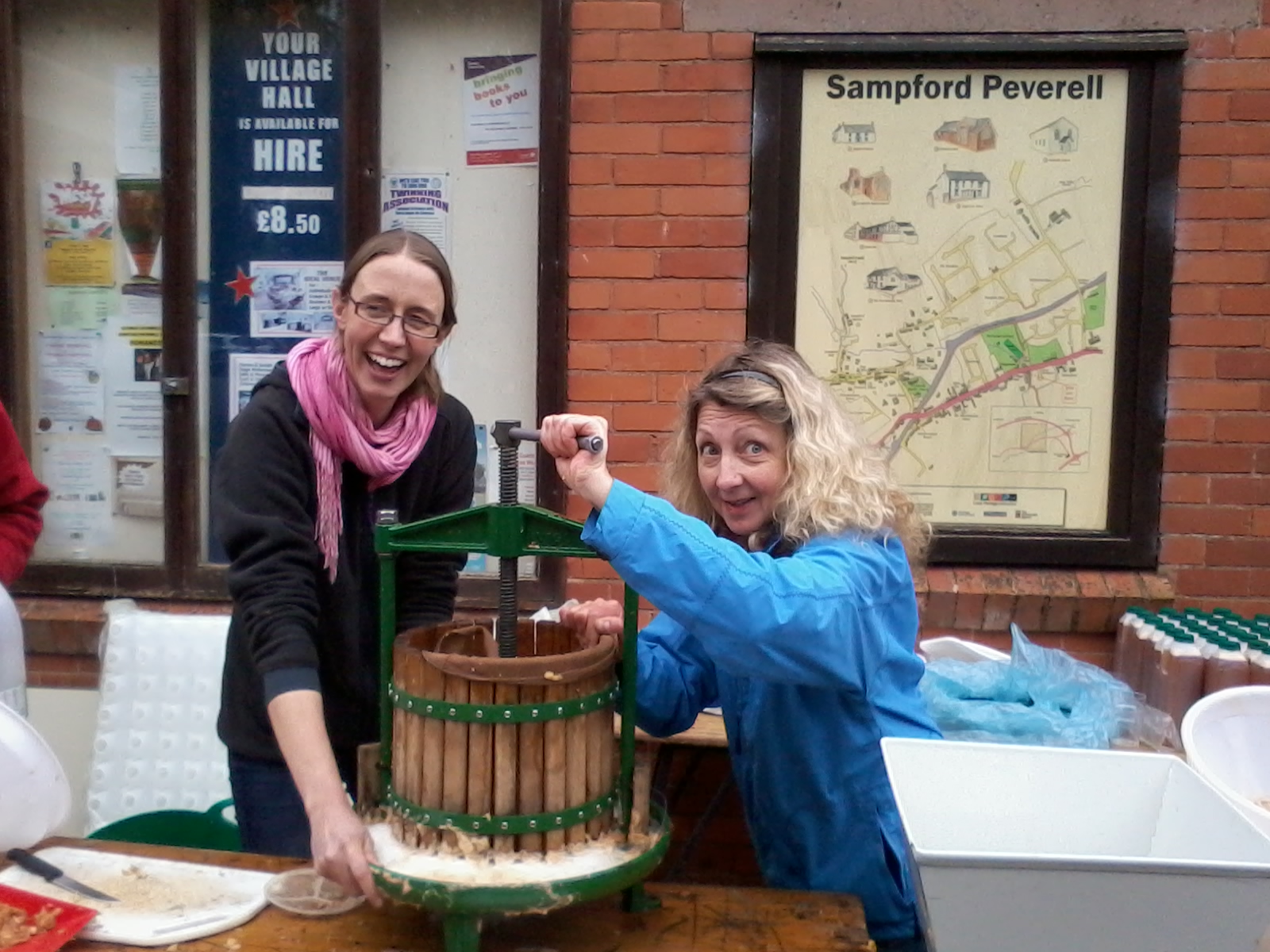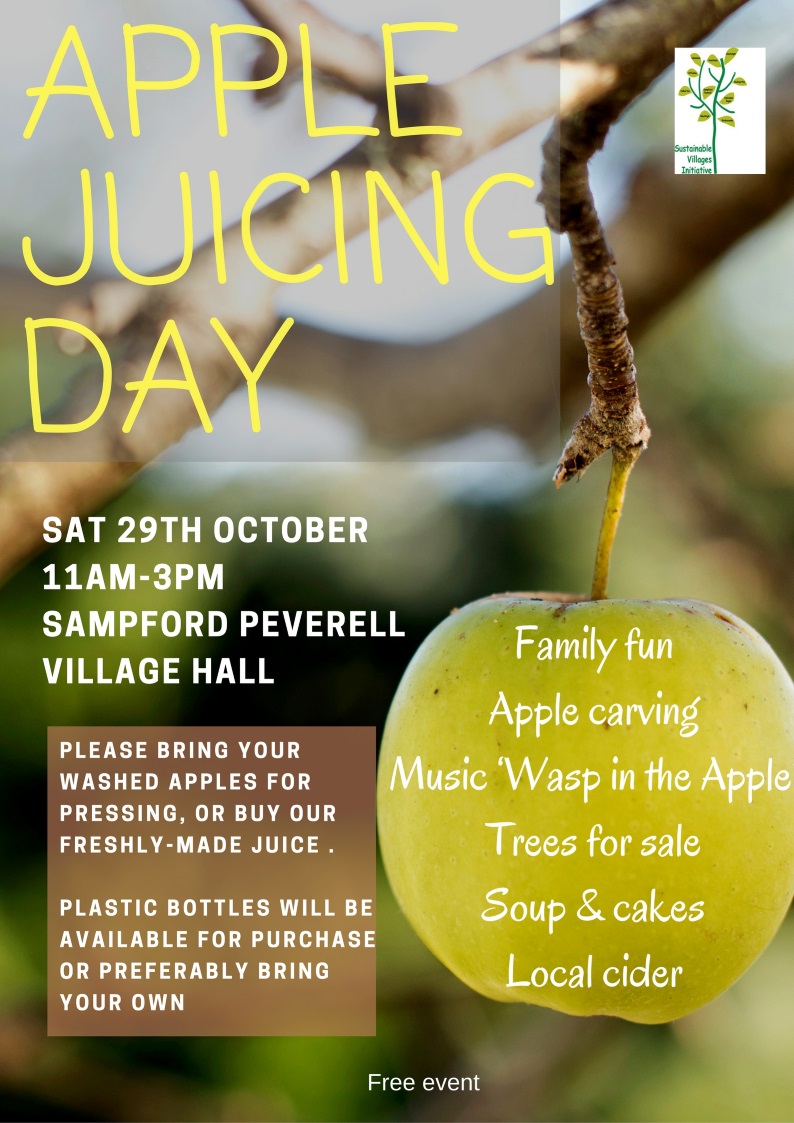 Give and Take
GIVE OR TAKE Event
Wed to Sat 27th-30th July 2016
10am – 3pm
          CreaTIV Hub shop, TIVERTON (next to the cinema)
Bring along stuff you don't need. Take away anything you
You don't have to Give to Take!
All for Free
The purpose is to reduce landfill
·                   All items donated must be in fair condition and usable.
·                                                               NO clothing please
      
Even the kitchen
sink ………!
Sustainable Villages had another successful Give or Take, in
Tiverton this week. After running it in the Market, for the past few years,
they decided to try it in the CreaTIV Hub.
Lots of decluttering, clearing of cupboards, rooms, garages
and sheds etc took place and instead of the result being taken to the Ashley,
people decided to GIVE it to the shop.
Anybody could come and TAKE these items free.
Items TAKEN ranged from a 2inch plastic flowerpot which
someone was delighted to find, because she had been looking for one for ages,
through electric toasters PAT tested at the REPAIR CAFÉ, ironing boards, books,
magazines, sets of saucepans, curtains, cups, glasses and tea cups, through to
the proverbial kitchen sink. TAKEn by a delighted customer!
Any fabric left went to a scrapstore.
The books left went to the Book Exchange, Exeter.
By the end of the week, we had 3 small boxes of items left
over, which have gone to a Charity shop.
Nothing went to landfill – which was the aim.
If you want to know more about Sustainable Villages look at
our website http://sampfordpeverellanddistrictsustainablevillages.btck.co.uk/NewsEvents
FREE FILM
24th Feb Sampford Peverell Village Hall 7.30pm
THIS CHANGES EVERYTHING?
The beginning of December in Paris saw a remarkable agreement between governments worldwide. They agreed about the reality of climate change and its human causation. They agreed that it has mostly been caused by industrialised nations, but its effects are mostly being felt in developing countries so there is a moral duty to help those countries and after long debate, they agreed that we need to keep our CO2 emissions down enough so that the world does not warm by any more than 1.5degrees.
Why am I happy, but not ecstatic?
These agreements are just that, promises, which have no legal binding.
We have made promises before and still our emissions go up.
At our present rate of emissions we are headed for at least a 4.0degree rise in temperature by the end of the century, which would see many major cities under water,including London and New York.
Why do we procrastinate? Why do we feel so helpless……and by the way how is it that the World Trade Organisation is able to have legally binding agreements?
Is there a connection?
In her book "This Changes Everything", Naomi Klein brings clarity to the situation we are in, explains how we have got ourselves into this mess and points to how, by acting collectively we may not only avert disaster, but also build a better fairer society.
Sustainable Villages are putting on a free showing of the film                 "This Changes Everything"at their AGM at 7.30pm on 24th February at Sampford Peverell Village Hall. The AGM will start at 7.00pm (all welcome)
Everyone is welcome to come and see the film and join in the discussion afterwards.
Events 2014

To encourage the community to live more sustainable lifestyles, Sustainable Villages has holds regular events which can be broadly grouped under the following headings  :
Food: growing your own or buying local produce; making the most of local food resources
Energy: making the transition to renewable energy; using lesselectricity, gas & oil
Recycling: adapting, swapping or re-using items
Educational: learning new skills, 'spreading the message'
In 2010, we obtained Lottery funding for our Apple Project. This has funded a number of initiatives and the equipment that has enabled us to hold our popular Apple Days every Autumn.
Peter Smith's 2011 talk on the future of Renewable Energy was so popular that it was repeated in 2012
Summary of 2008 Events.
Summary of 2009 Events.
Summary of 2010 Events.
Summary of 2011 Events.
Summary of 2012 Events.